RENT A BACKPACK FOR YOUR HIKE!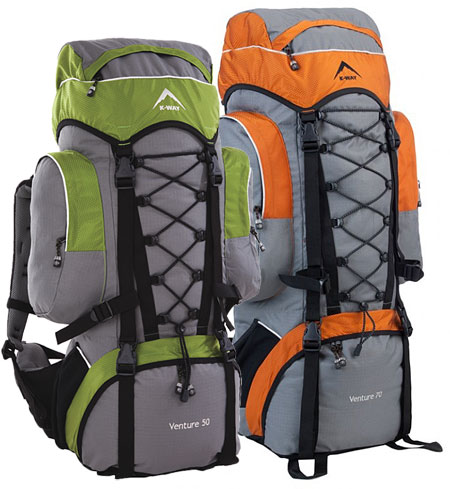 As an extra service for those booking a transfer with me and especially for those coming from overseas or novice hikers who do not want to have to go to the expense of buying all the gear you need for one hike, I have a number of backpack hiking kits to rent.
I rent the backpack hiking kits as a total package. Please note that I do not split the hiking kits into seperate items*.
See the list below to see what is included.
Backpack sizes available:
50 litre K-Way Backpack
60 litre K-Way Backpack

Each Hiking Package consists of:
1 x Backpack (50L or 60L)
1 x Gas stove
1 x Spare gas
1 x Cooking pot
1 x Plate
1 x Cup
1 x Knife, fork & spoon.
1 x Pen knife (including tin opener)
1 x Camping kettle
1 x 1 Litre water bottle
1 x 2 Litre water bottle
1 x Lighter
1 x Washing up kit for dishes
1 x Small first aid kit
10 x Water purification tablets
1 x Quick dry towel
1 x Headlamp & batteries
6 x Cable ties
4 x Candles
2 x Bin Bags
1 x Small Rope
1 x Long Rope (for river crossing)
1 x Float Bag (for river crossing)
*The backpack hiking kit is rented as a whole. (Should there be any items that you will not need, you are welcome to leave them with me).
Optional sleeping bags
Sleeping bags are not part of the hiking kit but are available on request. (Consists of a sleeping bag and a sleeping bag liner which is thoroughly washed after each use).
Gas Canisters
We keep stock of gas canisters for those who are traveling by air and can't fly with them. If we are transferring you from the airport to the trail, let us know how many gas canisters and what types you need and we will bring them along.
Should you wish to rent a backpack for the Otter, Outeniqua or Tsitsikamma Hikes please call or email me at the number below.
Download a backpack booking form here to view the terms and conditions.
Alternatively use the easy enquiry form on the Contact Page.